I finally had some time off to start working on my skirt. I'm using this pattern:




It's pattern number 5 view B, from the Fall/Winter issue of Burda Quick and Easy.

Progress:
Pattern modification: The pattern has 4 pattern pieces: center-front, center-back (both cut on fold); and left and right sides cut 2 times each. Based on my muslin (sorry, no pic), the skirt was too long; so I lowered the waist by 6cm and shortened the skirt by 5cm. I didn't want to just shorten it, because that would cause the skirt to lose it's bell-shape. Plus, the waist was too high for my preference.
Since I lowered the waist by 6 cm, the skirt was too wide at the waist. To retain the ratio between the pattern pieces (the front pieces are wider than the side ones), I narrowed the side pieces by 6mm on each side, which gave me 4,8cm less on the whole circumference. I left the front pieces untouched. Clear as mud?

Here's a pic of the fabric and cut pattern pieces:




I would have assembled the skirt, but, unfortunately, I ran out of thread :-(


One more thing I did over the Easter holidays is I went through all my Burda WOF magazines. I photo-copied all the technical drawings, put them in a binder. Then I went through the WOF archive on the Burda web-site and marked all the interesting patterns based on the photo and technical drawing. I found lots of very nice patterns that fashion photos just don't do them justice. So many interesting details are lost when they make patterns in solid colours, especially in black.


And ... I also bought more fabrics:

knits:



shirt-fabric - I have no idea what it's called: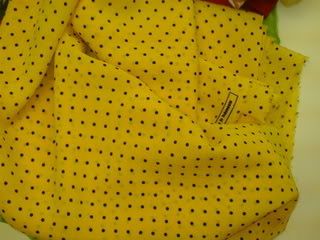 denim and striped-knit:



I apologize for the quality of the photos - they were taken with my mobile phone.