I haven't done any sewing yet. I'm back to work and this week has been both physically and emotionally draining. To lift my spirits, I went fabric shopping. I brought home these three beauties: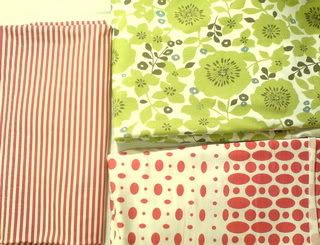 I apologize for the poor quality of the photo. It was taken with my phone as my camera sadly died recently. The colours aren't 100% true, the reds are more vibrant and the true green is closer to the colours in the upper right corner.

All three are knits. I haven't chosen the patterns yet, but I know that both red ones will be tops. I love the red and white combo with jeans, or even white pants, for the summer. The green one will be a wrap-dress. Paired with brown leather bag and sandals, it will look perfect.

Thank God tomorrow is Friday and I'll be able to do some sewing during the weekend.