This is my first top for my JCC.

Pattern photo:



My top:



Pattern Description: Misses pullover knit tops. I made view E; short-sleeved kimono style top.

Pattern Sizing: 4-20. I made size 10 straight out of the envelope and it fitted perfectly.

Did it look like the photo/drawing on the pattern envelope once you were done sewing with it? Yes.

Were the instructions easy to follow? I read through them, but didn't follow them exactly. The top is pretty easy to put together.

What did you particularly like or dislike about the pattern? I like everything about this pattern: the kimono sleeves, the fitted bodice.

Fabric Used: Red matte jersey.

Pattern Alterations or any design changes you made: Pattern alterations: As far as sizing is concerned, I made no alterations. Size 10 fitted me perfectly. What a pleasure!
I reduced the SA to 0,7cm because I was short on fabric. I left the 3,2cm hem allowance but only made 0,7cm hem. I found the top to be too short for my figure. I'm short-waisted with D-cup and I find longer tops more flattering.
I also shortened the neck band by about 2cm for snugger fit.

As for the construction, I sewed the entire top with my SM. MY serger refused to cooperate on this project so I used my trusting SM. Even if my serger did cooperate I would have sewn the back seams with my SM. I found that if you use your SM and press the seams open, you get more polished and less bulky seam.

I used a seam-a-steam alternative on sleeve hems. I found it at my local shop and I decided to try it. I'm satisfied with the results.
Sleeve hem:



Additional views: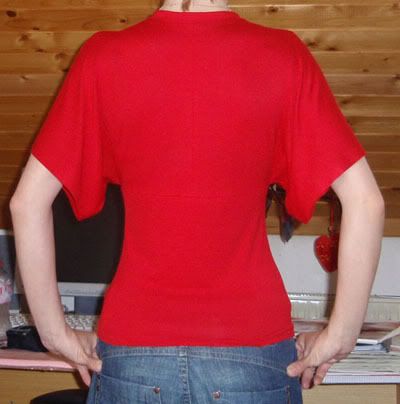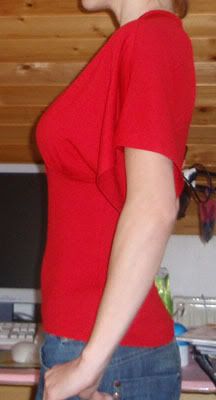 See the Stitcher's Gulid page on my monitor :-)

Would you sew it again? Would you recommend it to others? Yes and yes!

Conclusion: This top is a wonderful addition to any wardrobe. You can dress it up or down, wear it with dressy pants or a pair of jeans. I definitely recommend it!