I needed pants for an oriental dance classes I started taking, which are, by the way, so much fun it's unbelievable. I'm loving it! I was looking around in stores and all the pants I liked were considerably over-priced. So, I decided to make them myself.

I used this Jalie pattern, which turned out to be another winner.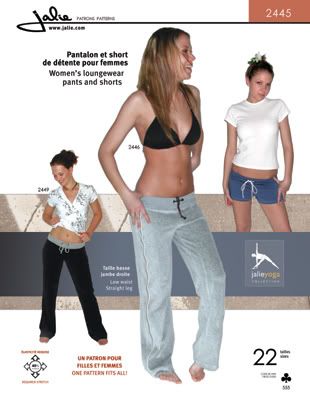 Pattern Description: Women's loungewear pants and shorts - The comfortable pants you have always been looking for! Easy-fit stretch pants or shorts, with drawstring wasistband for incredible comfort, straight for a flattering look.

Pattern Sizing: All sizes from children to women. I made size R without alterations.

Did it look like the photo/drawing on the pattern envelope once you were done sewing with it? Yes.

Were the instructions easy to follow? Very easy.

What did you particularly like or dislike about the pattern? I love this style, it's very comfortable and straight leg is very flattering. I love the fact that I made the pants in less that 2 hours from tracing the pattern to the final seam.

Fabric Used: Cotton - lycra knit. This knit is quite heavy in weight and has amazing recovery. It's perfect for this type of pants.

Pattern Alterations or any design changes you made: I omitted the drawstrings in the belt and made the waistband from a simple band, that I cut 3cm shorter that the waist. This way the belt is stretched just enough that is comfortable and makes the pants stay put.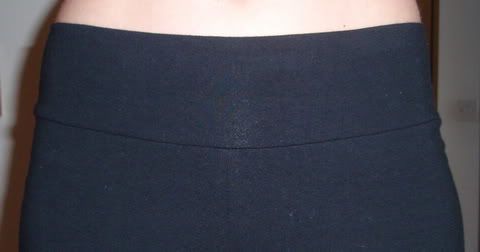 Would you sew it again? Would you recommend it to others? I'll sew it again very soon and I do recommend it to others. I've seen pants made from this kind of fabric that are priced around 30 or even 40€. I definitely saved some money on this one.

Conclusion: Great loungewear, yoga pant pattern. Very easy and fast to make. Another winner in my book.

Here are photos of the finished project, front and side view: