I decided to join the June Capsule contest on Stitcher's Guild. One of the reasons being that I need a pair of nice summer pants and the second reason that I need garments that coordinate.

Here are the rules of the contest:
The contest will run June 1 - June 30.

Rules:

1. The capsule will consist of four garments and one accessory (purse, belt, headband, jewellery, etc). One of the garments must be a top, one must be a bottom, all the tops must co-ordinate with all the bottoms and the accessory must co-ordinate with them all.

2. One of the items can be purchased and one can be made before June.

3. All the other items must be sewn, knitted, crafted etc during June.

4. Twist: no black items.

5. Everyone who tells me they want to enter the contest and makes at least one item can vote on the winner.

6. At the end of the contest people can send me photos and I'll post them in sets on Flickr. We should have four photos - one showing all the garments (composite or hanging or whatever) and three of the wearer modelling the items. No flat photos of the clothes please.

Here's are my fabrics for the contest:




I'll be making pants (bottom fabric) from off-white stretch cotton; and 3 tops. I haven't chosen the patterns yet.

Click here for the official thread.



I did some unintentional fabric shopping this week. One of my favourite stores also sells bolt remnants by kilogram. These are usually plain knits wonderful for T-shirts, but sometimes dull and in strange colours.
Well this week, they had these wonderful prints and I bought a few.

These are small pieces from 60cm to 1m (0.6 yards to 1.1 yard):




But these ones are huge. The largest is about 3m (3.3 yards) and they were super cheap: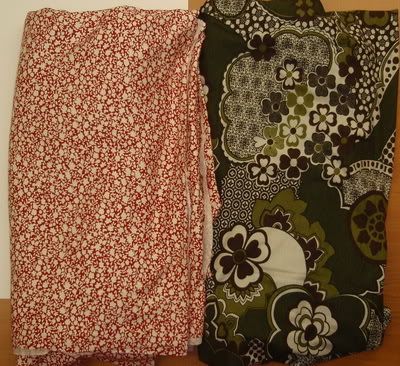 These will make wonderful dresses, won't they?

This weekend will be my last weekend studying; after that I'll be free. I can already hear my machines calling me.

Happy sewing everyone!