I haven't completed a project in over a year. So this would be my comeback :-)

Jalie 2682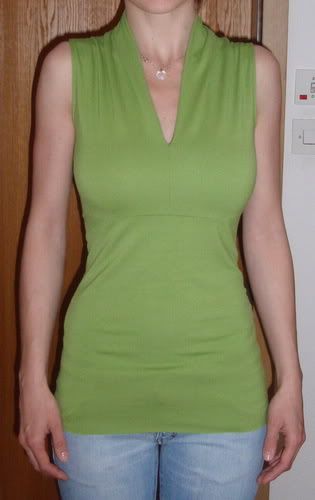 Pattern Description: From Jalie's web-site: Stylish V-neck top, raised neckline at back, with or without sleeves. View A has a zipper at front neckline for more coverage.
I made view B without sleeves.

Pattern Sizing: I started with size R, but ended up taking in a lot.

Did it look like the photo/drawing on the pattern envelope once you were done sewing with it? Yes.

Were the instructions easy to follow? Yes.

What did you particularly like or dislike about the pattern? I love everything about this top, especially the neckline.

Fabric Used: Green jersey.

Pattern Alterations or any design changes you made: First I made a muslin and the top came out too big; not comfy big, but BIG. The only place it fitted right was across my chest. Since the fabric I used was thin and more on the fancy side and I also prefer my tops more fitted, I ended up taking over 3cm (= 1.2 inches) at the sides, but only on the lower parts, not the bodice. I also took in a little on back bodice part as well. If I were making it in a different fabric, especially thicker one, I wouldn't have taken in so much.

Second alteration I made was I lowered the bodice seams by 1.5cm (=0.6 inches) because with the original pattern, the seam came up too high on my bust. Naturally, I had to lower the back bodice seam also to keep seams in balance.

One thing I also noticed with the muslin was that serged seams came out too bulky, especially the ones between the bodices and the lower parts of the top. So I decided not to use my serger and sew the seams with my SM. I presses the seams flat and as you can see on the pics there are no bulky seams anywhere.

More pics:

Side view:



Back view: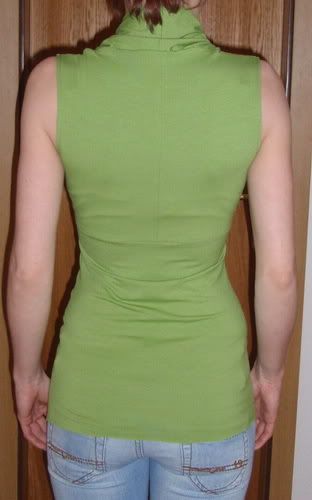 Would you sew it again? Would you recommend it to others? Yes and yes. This just became one of my favourite patterns and I will definitely make it again.

Conclusion: As I said, I fell in love with this pattern. If you're looking for a quick and easy top that looks fab, this is the pattern you're looking for. And the best thing about it is that you can dress it up or down depending on the fabric you choose.
Big thanks to Leslie in Austin for sending me this pattern.