I made a muslin for this Burda top. I made size 34, but as I see now, I should have made it in 36. I'm still quite happy with the results, except that my muslin knit fabric turned out to be too stiff for this top. As you can clearly see in the photo of the back the fabric should have more drape.

Here's the picture of the muslin: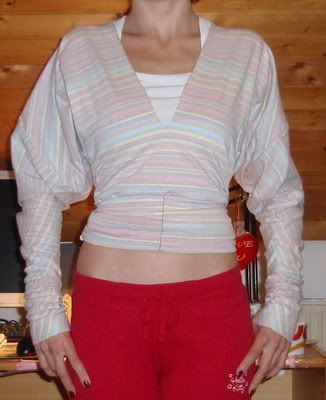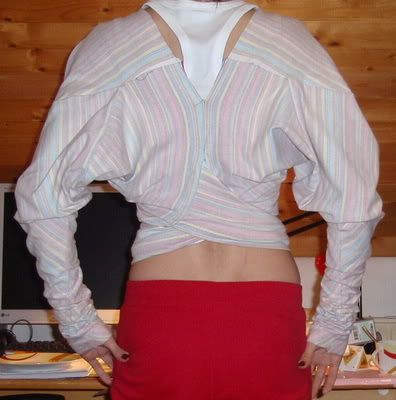 As far as the construction goes, it wasn't as difficult as it looked on the first sight. My instructions were in German - not my strongest suit. I tried to make sense of it, but I couldn't quite get it. Finally, I just wrote the numbers of notches on the fabric and placed them together accordingly. And it worked.

The only thing I don't like is the waistband part. It came out too small. The problem could be the fabric, or I could have made a mistake in construction or that I made it one size too small. I'll figure it out until I make a real version of it. Btw, there's a seam on the front of my waistband that shouldn't be there. I had a limited amount of this fabric and I couldn't cut it on fold.

Also, I noticed that this top is really short.I thought it was longer based on the one on the model. But again, this could be solved with a bigger size.
-----------------------------------------------------------------------------------

Here's another top I made. Inspired (or shamelessly copied) by Adriana's version posted here.