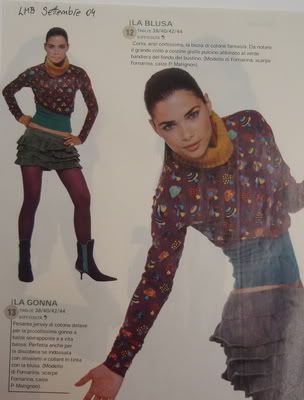 This is a pattern for a non-fitted turtleneck with dropped shoulder-seams and wide waistband.

Fabric used: 4-way stretch cotton jersey. I didn't use the rib knit as pictured in the magazine, since I couldn't find any locally.

The pattern: The pattern has 5 pieces, only 3 (the front and back bodice and the sleeve) are included in the pattern. You have to draft 2 rectangles for the neckband and the waistband yourself, according to the instructions: 40cm X 18 cm and 38cm X 20cm respectively. The measurements are for the Italian size 38, which corresponds to European 36.

What bothered me the most about this pattern is the fact that the photo in the magazine doesn't correspond to the given pattern pieces.
First of all, the neckline. The neckline (on the bodice) on the magazine photo is wide, so that the turtleneck is quite loose and not tight around the neck. Well, on the pattern pieces, the neckline is drafted as if it would be on a basic T-shirt pattern. And the neckband comes quite tight around the neck.
Since, that was not the look I wanted, I lowered the neckline by 1 cm all the way around. I should have lowered it a bit more. In addition, the length of the neckband is, according to the instructions 40 cm; but if measured, the neckline is 44 cm - that was prior to my alterations. That makes the neckband even tighter and certainly not loose as shown on the photo.

Second issue was the waistband. The instructions have you cut the 38cm long waistband. However, those 38cm correspond to the width of the bodice and when you attach the bodice, you don't get that loose bodice with fitted waistband as pictured. I had to take in the bodice by 4cm to approximately achieve that look. I know I didn't use the rib knit for the waistband; but even if I did, I still wouldn't get that gathered look.

Here are some photos of the finished garment: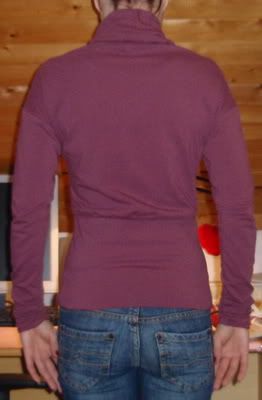 Construction wise, the top went together easy. I first joined the front and back bodice at the shoulder seams, attached the sleeves in flat. Sewn the side bodice seams together with sleeve seams. I then attached the neckband and the waistband.

I really like the idea of this pattern, and I will make this pattern again with some major alterations. I'm not disappointed with the results, but I wish my top looked more like the photo in the magazine.