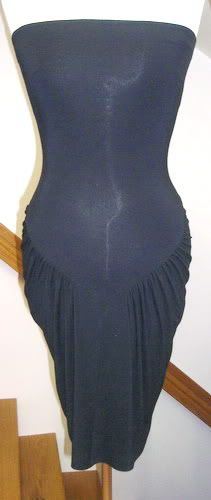 I made this dress for the New Year's party at work. This was one of those Project Runway moments when you race to finish the dress at 1 a.m., go to bed, wake up at 6 a.m., work all day and party half of the night.

Pattern Description: Dress - top is a tube top ending in V-shape; bottom part has ruching on the hips.

Pattern Sizing: The pattern comes in sizes 40, 44 and 48. I started with size 40.

Did it look like the photo/drawing on the pattern envelope once you were done sewing with it? Yes, except I intentionally omitted the applique on the top.




Were the instructions easy to follow? I didn't follow them, because the only word I understood was 'vestido' :-)

What did you particularly like or dislike about the pattern? I love everything about the pattern. I had a few issues with the V point, but I knew that was going to be the most challenging part of the pattern.

Fabric Used: rayon-lycra knit

Pattern alterations or any design changes you made: First I took in the pattern. As I wrote above, I started with size 40, but ended up taking the pattern in quite a lot. On the top part I took in: 3cm at the center front (the V part), 2.5cm at the side seams and at the back 1cm on every seam. The back consists of 4 parts. I then changed the skirt part accordingly.
I also omitted the applique part, mostly because I didn't have anything appropriate at home.

Sewing: I've sewn the entire dress on my SM, no serger. I did the ruching by sewing with the largest seam length and gathered it by pulling the thread, I then pinned it and slowly sewed it to the top.



For the upper part of the tube top there is a facing pattern piece. I used the facing, but reinforced the seam with clear elastic. It worked perfectly. I minimized the slipping of the dress. I only had a few of those pulling-up the dress moments :-)


The only part I didn't like is sewing the V-part. The fabric kept stretching and the V didn't look good at all. I finally managed to put it into a satisfactory state. I'm not entirely happy with it, but oh, well.

Would you sew it again? Would you recommend it to others? I probably won't sew it again, but I do recommend it.

Conclusion: Great party / evening dress.

Dress on me:






Btw, did you notice I made a white cover up for Mimi. I like it better than the red one she came in.

I have some more great news, but I'll share them in my next post. Until then....
Happy sewing everyone!