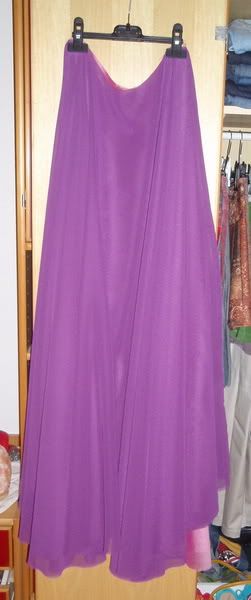 I have a belly dancing performance on Friday (wish me luck). It's a production at the end of the course where every group will perform one dance to show what we have learned.

I drafted the pattern for the skirt following the instructions from the book Skirting the Issues. I made a full circle skirt with two panels. Usually it's three, but I bought the whole fabric from the bolt and there wasn't enough to make three panels.

This is the photo of the pattern piece, it's 1/2 of the circle and it's huge:



The skirt is made of two different layers, the darker one on the outside and the lighter one on the inside, to lessen the see-through quality of the fabric.




Fabric used: 100% polyester
The fabric gave me lots of problems. I had so much puckering, I managed to get it almost to none at the end, but still... I was so mad. I tried using starch on the fabric, but it didn't wash off completely, so I decided not to use it.
Using the sharp microtex needle helped. I let all the seams dry and cool off flat after pressing, which also made the difference.

Construction: I used the French seam on the side seams. The skirt is not finished yet. I will let it hang over night, add the elastic at the waist and hem it with rolled hem.

I'll post the pictures of the finished skirt tomorrow.